At the beginning of December ThoughtWorks announced that all employees will receive a productivity allowance to be spent on anything that will make you more productive at work. This could be anything – a tablet, phone, laptop, SSD, etc. This e-mail had the interesting side-effect of pretty much killing productivity for the whole day – everyone was bouncing ideas around on what to buy.
After a few minutes a lightbulb went on in my head and I remembered the very expensive piece of technology which I had frequently visited on Amazon – the Apple Thunderbolt display.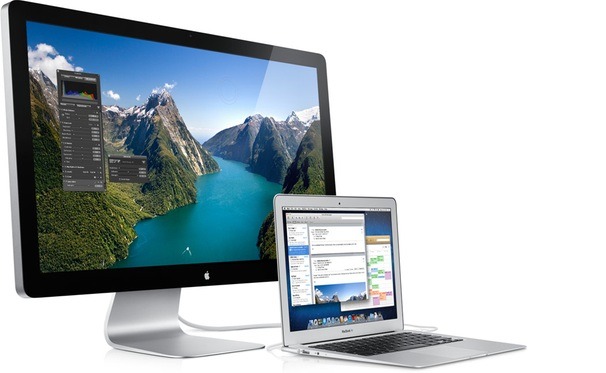 I did spend a considerable amount of time researching this display and reading reviews – the main negatives I could find were the high amount of glare and the low number of USB ports (only 3). I also went to the Apple store to make sure my MacBook Pro has the necessary graphics hardware to be able to use a monitor like this. (I plugged in my laptop right there to check it out)
I've been using it for 2 weeks and I think I have pretty much made up my mind about this display.
The Good
This display is absolutely beautiful. Really. There is no other word. It has all the incredible build quality you have come to expect from Apple – there is even a hole at the back of the stand to fit the power cable through (no messy wires). The monitor and the stand are very solid and it's very easy to adjust the tilt.
The crispness and clarity of the display is absolutely perfect. The first thing I did was to go browse through my pictures – everything looks so much better on this display. It simply makes all other external monitors look very very average. Just watching an HD movie on this is a whole different experience.
The docking station features are really good as well – there is one cable coming out of the display which splits into two at the end – the power and the thunderbolt cable. It makes everything so much simpler – no need to plug in 6 different cables.
I can't really put into words how good this display is – just go to an Apple store and stare at it.
The Bad
As I expected, the glare can be a problem. Yes, it's a glossy display. But it's not as bad as I thought it would be. Just make sure there's not a light source directly behind you and you'll be fine. Also make sure you adjust the brightness to a level where it doesn't hurt your eyes.
I've also noticed that the display only goes into the maximum resolution when I'm using it as the only display – i.e. not using the display on my MacBook at all. Apparently this is due to the 2 displays having a very slight difference in aspect ratio. It hasn't been a problem for me (since I usually work on one of the 2, not both), but it's something to consider.
I've also found it seems to wake unexpectedly (especially on OSX Snow Leopard) – I'll put it in sleep mode, get into bed and a few minutes later it will just switch on by itself. I've found actually switching off my mouse (mine has a switch) actually helps, but it's really annoying.
I also run Windows 7 via BootCamp and while the display works perfectly you can't adjust the brightness – it seems to get confused and adjust the brightness on my MacBook's display. I saw there is a bug logged against this so it seems to be an issue with the Windows drivers.
The Strange
The sheer size of the display has some interesting side-effects. For example, the OSX dock is a fixed size – which means it suddenly becomes very small when you're working on a display of this size. You can adjust it, but then you need to adjust it again when you're working on just your laptop. I also found that I sometimes need to adjust the text size in some of the editors I use. This isn't really a negative since it's simply what you get on a 27″ monitor, but it's definitely a bit strange the first time you use it.
I've also found that Netflix streaming doesn't seem to be able to run properly in full-screen mode. I think this is an issue with the Silverlight plugin they use – the video seems to skip frames every few seconds. To me this was simply another reason to stupid using Netflix – what a disappointing service.
Conclusion
The Thunderbolt display is a definite win. 10 out of 10. A++. Everything you could want in a monitor.
It does however come at a very hefty price tag – $969 on Amazon. I don't think I would ever have forked out this kind of money if I didn't get the allowance from ThoughtWorks. So maybe this is the only real advice I can offer: If you ever find yourself working for ThoughtWorks and they offer you a productivity allowance, run (don't walk) and go buy this display. It rocks.
Thank you ThoughtWorks!